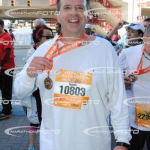 Congratulations! You have decided…or been forced into your first half marathon! Either case it's pretty cool you have reached this point and I guarantee you will enjoy the ride and become addicted to this stupid running thing. Did I mention you get a shiny medal when you cross the finish line??
And free swag as well! Well you do have to register and pay a entry fee. But do it early to get the reduced entry fee.
Let me share right off the bat a few things I had to learn the hard way because no one volunteers this crap at the start.
Getting your first couple of miles under your belt will allow you to get away with bad equipment. But you will reach that magical threshold and you will discover the wonders of runners rash. So before you get there, start getting the correct gear in place. Everything from compression underwear to bodyglide stick applicators.
You will reach the point where rain will not detour your enjoyment of running. This is great. But if you haven't reached point 1 yet, and you are running with cotton gear, you will expedite point 1 with nipple chafe added to runners rash. A great double whammy. So wear the correct underwear, shirt and socks. And invest in Nip Guards. I kid you not.
Body functions. I'm happy to report I have not discovered Runners Diarrhea. That's because I took some early advice and made sure to always test my diet on training runs and never, EVER, change your diet before the big run. I personally have found that carbing it up for dinner the day before the event helps to not only fuel me up but also keep my gut in check. When you have an event that starts at 6:30 am, which requires you leaving the house at 5:00 am, waking up at 4:00 am, you are not going to get your normal morning constitutional. And that really had me worried. But I found a high carb dinner with oatmeal in the morning, with a banana and powerbar as I'm standing in the staging area works perfect. But that's me. You need to find your own food prep and that requires a test run. I can't stress that enough.
Body functions part 2…actually 1.  Peeing. Don't worry that you need to find cover. There are porta potties located throughout the course. Make sure you relieve yourself before you get the staging area. Those porta potties normally don't have long standing lines. As you get closer to the staging areas expect a line. And respect the lines.

Now for the normal recommendations:
Find the correct running shoes. This is not the time to find your best cheap deal. Go to those the know a thing or two about running and value their expertise.
Get a fitness tracking and running app. Know exactly how you did after every run. Google the running guides on how to properly increment your distance safely.
Understand your pace and set some realistic expectations. You need to know this before the big day so that you don't let the excitement and adrenaline have you shooting out the gate only to have your wheels come off a few miles later. Pace yourself. Don't get hung up on that friend that can run a 7:30 mile. Find your pace and be happy with it. Your first half marathon should not be chasing a time goal, but having fun and complete the course in good health.
Get a good running bottle. Some use belts. I like a hand bottle with hand strap.
Get a good headset. Bluetooth model works well. I find the challenge is with wind. On windy days, it can interfere with listening quality. So don't go cheap here.
Get a head lamp to allow you to run in the mornings/evenings.
Get a running vest or belt to hold your phone and nutrition.
Find that runners high. You will know the moment. You will be breaking a new milestone and most likely have your favorite tunes on.
I switched to listing to audio books for my longer training runs.
Get cold weather running gear. I see folks get all excited about running in the cold. Not me. Anything below 40 and I'm doing weight resistance or playing some racquetball or spinning.
Mix in a Hybrid training program. My friend Dr. Henderson has put together a great hybrid workout program.
Rest rest rest.
Prepare for the big day:
Preparing starts the day ahead.
Carb up the night before.
Stay Hydrated.
Go to bed early. Get all your gear laid out based on possible weather conditions. Do this in another room so not to bother your spouse in the morning.
Leave the water bottle at home. There are water stations every mile.
Leave the headphone at home. Take in the sights and sounds. Enjoy the crowd. Stay aware of what's going on.
Enjoy a breakfast what won't upset your stomach.
Map out your fuel. A lot of folks like the GU packs. They recommend a pack 15 min before the race, and then every 45 mins.
Gentlemen, got your nip guards on? No, then at least put band-aids over your nipples. Or apply some of the bodyglide for runners. If not you will indeed "Make America Chafe again".
Dress like it's 20 degrees warmer then the forecast for start time. If it's going to be 45 or colder, I still wear shorts and maybe a long sleeve shirt. If my arms get cold…all I can think about is how cold they are. I don't worry about gloves on the big day but I do train with them. I like to take that old grungy sweater that the wife has been nagging me about to throw away. So I wear that on top. Right as our staging area moves into starting position you can see the sweaters getting tossed to the side. And this is cool as they are collected and given to charities.
If rain is in the forecast, leave the nice running vest at home unless you want to mess with storing your gear in the clear plastic bag and hand off before the race. Total pain, I avoid this. Just take a throw away poncho or garbage bag with head and arm cutouts.
Get to your staging area extra early. This allows you to avoid the traffic and basically have one less thing to stress about. Relieve yourself even if you don't think you have to go. And trust me, I'm always late to everything. But getting to the staging area on time is awesome.
I find I don't have to do too much warming up, the fast walk to the staging area does the trick with some stretching as you wait.
NOW GO HAVE FUN!!