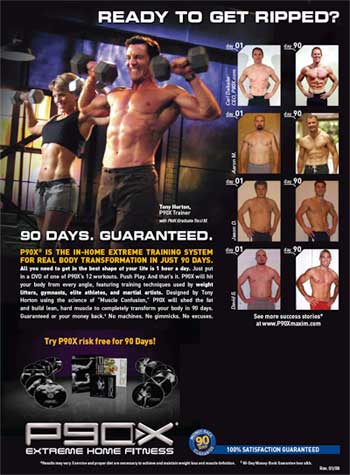 I feel obligated to post this as many folks I meet are still desperately looking for the magic pill solution. So if your looking for the HTC drops or other drugs to help loose weight, then you will not find that here.
P90x is about good old fashion blood and sweat exercise with proper nutrition. It's not only the best way to get in proper shape, it's the smart lifestyle change way.
P90x can be done at all levels of fitness. There is a myth that only fit people can perform this extreme program. That is simply not true. The program can be modified to make it easier or harder based on your fitness level. I started at 215 lbs and failed the fit test. After 90 days of sticking with it, I was down to 165.
The P90X workout is a breakthrough home fitness program created by Tony Horton and Beachbody. This revolutionary workout system is made up of 12 hardcore, muscle-pumping exercise routines that were designed to transform your body from it's current condition to completely ripped in just 90 days.
In addition to the extreme P90X workout routines, the program also includes a step-by-step 3 phase diet and nutrition plan, progress calendar, fitness guide, online support, and much more.
So what makes P90X any different from all of the other home fitness programs on the market?
Two words. Muscle confusion.
This advanced training technique shifts your body's system into overdrive and accelerates results by continually adding new routines and moves. As a result, your body and muscles never plateau and you never get bored!
Regardless of whether your goal is to lose weight and get lean, bulk up and add muscle mass, or simply get ripped — there are an endless number of possible workout routines which will keep you motivated and on track!