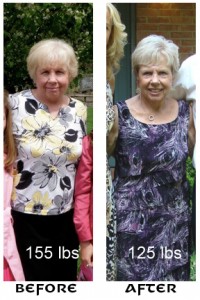 *** UPDATE!! UPDATE!! UPDATE!!
Mary Won the November Beachbody Challenge for her Shakeology Success Story!! How awesome is that?!!! She won $1000 just for signing up and committing to the Beachbody Challenge for free. And now she's in the running for the quarterly $5000 prize with the possibility to join the finalist at the 2012 Coach Summit in Las Vegas!!!
***
My mom is very active for her age (69 going on 70!) and and never one to take it easy. But after years as a caretaker for her Aunt, and now busy watching over active twin grandchildren, she did allow neglect to come into her life and the pounds just slowly but surely added on over the year/decades. She reached a new high of 152-155 lbs….she's not exactly sure as she stopped checking when she reached 150, but it would be months later that she saw my weight loss of 50 lbs with P90x. Then she saw my wife lose her hard to lose pounds she battled for years along with getting in the best toned shape she has ever been in.
Now she knew she couldn't even think about P90X in her shape, and Slim 6 was even too much. But she learned that we also supplemented our nutrition with Shakeology, she tried it, Love IT and wanted in. So she's been using Shakeology as a meal replacement for the last 4 months and dropped from her high to a new low healthy weight of 124 lbs!  She also found out that Shakeology includes two work out programs that Tanya from Insanity put together. She mastered the 30 min dvd and almost has the 50 min DVD mastered. At which point she now wants to look into the Slim Series!!
The really cool part is that she has dropped from dress size 12-14 down now to the 6-8 sizes! She is about to receive final approval to come off her HBP and Cholesterol meds. And since joining her local Silver Sneaker class, she has made a remarkable fitness turnaround basically running circles around the others.  She has become so excited about her transformation that she wants to share Shakeology with others and has become a Beachbody Coach!
We have submitted her results to the Beachbody Challenge! If you have a similar story, I highly recommend you enter this great challenge and share your story!