I was originally going to focus on how to know when it's time to replace your shoes. Runners can gauge this easier then folks doing cardio, but the same principle applies…. don't stay in the same pair past their usefulness. But instead of going into the details, I came across this excellent blog article from Beachbody: How to know when to replace your workout shoes.
That then allows me to share my recent understanding of the importance to "finding the right shoe". In the past I would go to a normal sporting store with sales associates not really caring or understanding the equipment they were selling. So I would always buy the hot marketing shoe at the moment at the lowest price. Shoe size was a best guess based off my past experience. Little did I know this was responsible for blowing out my calf muscle every other week. I'll explain that more in a bit.
So I decided to get some compression socks to deal with my calf muscle issue. I walked into Fleet Feet located in Blue Ash Ohio and as soon as the sales associate engaged me, I knew this was going to be a different experience and outcome. I really wanted to buy the compression socks but she was like how old are your shoes? I thought this was a ridicules question, just sell me the compression socks!!!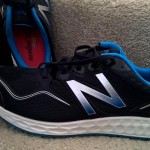 But she then asked if I was ever properly fitted for shoes? At which point I took her offer to get properly fitted just to amuse her so I could get back to buying the compression socks! So in short order I learned I've been cramming my feet in too small size shoes, which results in the toe jamming up, which then causes a whole sort of alignment issues…resulting in…yup, my calfs getting those major cramps. She also watch my walk and run through 4 different pairs of shoes until we found the perfect match. So I left the store with a new pair of New Balance shoes and I never did buy the compression socks!
That was 3 weeks ago and I have been back into my running mode with not a single cramp!
So lesson of the day. It's well worth the time and money to seek out these personalized shoe stores and get actual expert help. Don't wing it on your own.