I've gone through several variations trying to come up with the best tasting, best nutritional protein balls based on Shakeology.  I'm happy to report I think I struck gold!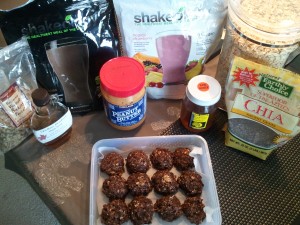 The trick is the almond milk I make, and instead of blanching the almonds and then using a cheesecloth to strain the milk, I add all the refuse into the recipes. This is really awesome if I say so myself!!
So here are the ingredients and directions
4 cups rolled oats (not the instant kind)
3 scoops Chocolate Shakeology
1 scoop Strawberry Shakeology
1 cup homemade Almond Milk (directions below)
1/4 cup walnuts, chopped.
3 Tbp Chia seeds
4 tbp Raw Organic Honey
4 tbp Organic PB
Mix the dry stuff first with a big spoon. Then add the Almond Milk from below. Add the PB and Honey and mix it all in best you can. Use an ice cream or cookie scooper and pack in the mix and then drop onto wax parchment paper. Now refrigerate for at least 4 hours. I find that leaving them uncovered at first helps to dry them out and they are easier to handle with no sticky mess. If you store in a container, they will stay moist longer, but they are a bit messier to deal with. So find somewhere in the middle that works for you.
Almond Milk:
1 cup water
1/4 raw almonds
1 tsp 100% pure Maple syrup. Not the processed crap
Blend all together until water turns a nice white milky look. But not too long as you want some of the almond chucks to stay around.
Nutritional Facts.
I was able to make 22 balls from this batch. So that breaks down each ball to the following:
143 gr calories
5 gr sugar
7 gr protein
17 gr carbs
5 gr fat
So don't go crazy eating these, but once a day would be perfect, and you control the ingredients!