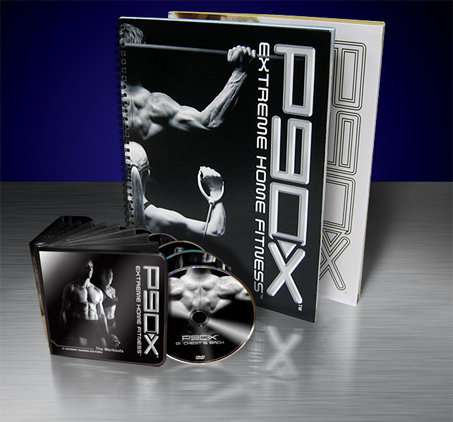 This is such a great primer that Mike French put together in Facebook that I had to re-post for the blogosphere. I have come across folks that bought bootleg copies and don't have all the supporting documents to truly understand how P90x works. And even those that bought it, they do a couple of weeks and give up because they don't see results. So if you are new the P90x or getting ready to try it again, make sure you read the following to maximize your results. Thanks again Mike for your contributions.
RESOLVE TO EVOLVE V2.0 (Inside a Round of P90X) by Mike French **Updated March 3, 2010**
You have accepted the challenge of 90 days of P90X. CONGRATULATIONS! However, you have allot of questions. Here are some advice that can help you go from Day 1 Novice to Day 90 P90X Graduate!
You need to a have a specific plan. The P90X Guidebook will be your Fitness Bible for the next 90 days. Settle on a specific Goal. Don't say "I want to lose weight." Instead say "I want to lose 25 pounds.
Read and reread the P90X Nutrition Guide and Workout Guide. You need to understand that no amount of exercise, even exercise as intense as P90X will make up for poor daily nutrition.
Decide what Beachbody Supplements you will use to support your Nutrition during your 90 day quest. I highly recommend two supplements that I consider essential to supporting your Nutritional plan when doing P90X:
1.) P90X Peak Health Formula Vitamins
2.) Shakeology
Make sure you get at least 7 hours of quality sleep per night to make sure you Recover from your P90X workouts.
Have a clear understanding of the positive, unstoppable state of mind that you need to cultivate during your 90 Day round of the X. Have your "mind right".
So what should you expect? I'll give you some insight so there are no surprises.
DAY 1 – 30 (PHASE 1 – APPROXIMATELY)
1.) This is the adjustment period. Your body is getting into the schedule and tempo of your workouts. It is adjusting to your new nutrition habits. Expect some differences, perhaps not the drastic visual differences you crave but your clothes will become baggier. **STAY OFF THE SCALE!**
2.) Stay the course during this period. I have had allot of people say to me "Something is not right, I'm not getting as lean as I should be."
This is normal; during Phase 1 you are priming the body and stoking your metabolic fire. **YOUR BODY DOES NOT SPOT REDUCE FAT! I REPEAT, YOUR BODY DOES NOT SPOT REDUCE FAT! **
Your body will take body fat off in "sheets". What I mean is that it will reduce your overall body fat evenly. Where we hold the largest amount of body fat largely depends on genetics and gender. Women tend to hold their body fat in their butt, leg, hip region. Men generally hold their body fat in their waistlines.
This is what to watch for in this Phase: loosening of your clothes, stay off of the scale and above all, remain patient and continue to work hard.
DAYS 31-60 (PHASE 2 – APPROXIMATELY)
1.) This phase is where your body kicks into high gear. You are getting stronger and leaner. Expect dramatic results during this Phase as long as you remain disciplined and suffer daily. Make your daily Nutrition as important as your workouts. That is the "secret" to astounding Fitness results.
2.) WHAT TO EXPECT: You will start to see that your outer extremities, (Forearms, calves, upper back, shoulders) generally where people hold the least amount of fat, will start to get leaner.
3.) Where you hold the most fat will improve but not to your impatient satisfaction. Why? Because as your body removes the fat in "sheets" naturally the leaner sections of your body will show definition the quickest.
4.) REMAIN PATIENT AND STAY THE COURSE!
 
DAYS 61 – 90 (PHASE 3 – APPROXIMATELY)
1.) This is the Phase to let it all hang out. It's an all out assault on body fat. Your metabolism is in high gear, you have noticed a drastic improvement in definition throughout your entire body and your most stubborn pockets of fat are carving away. You will be tempted to change things to enhance your results. This is a mistake. Here is my advice:**STAY THE COURSE** Trust the P90X Schedule and your quality nutrition. You don't need Doubles, extra cardio, or anythign else but sustained, consistent effort.
2.) At the end of this 3rd Phase you want to be standing tall on Day 90, proudly take your after pictures and be able to say, "I worked as hard as I possibly could have during the past 90 days, I BROUGHT IT!"
My results from my first Round of P90X in 2007: 44 pounds lost!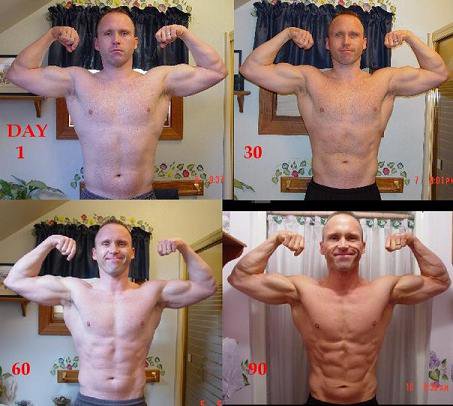 So there it is, what to expect during a Phase of P90X. P90X is a Fitness gift to each of us. Treat it with the respect it deserves and you will reap the amazing Fitness benefits that only P90X can provide!
If anyone has any questions and would like to discuss some of the finer points of what I have described above, please don't hesitate to ask.
Live Strong – Live Lean
Mike