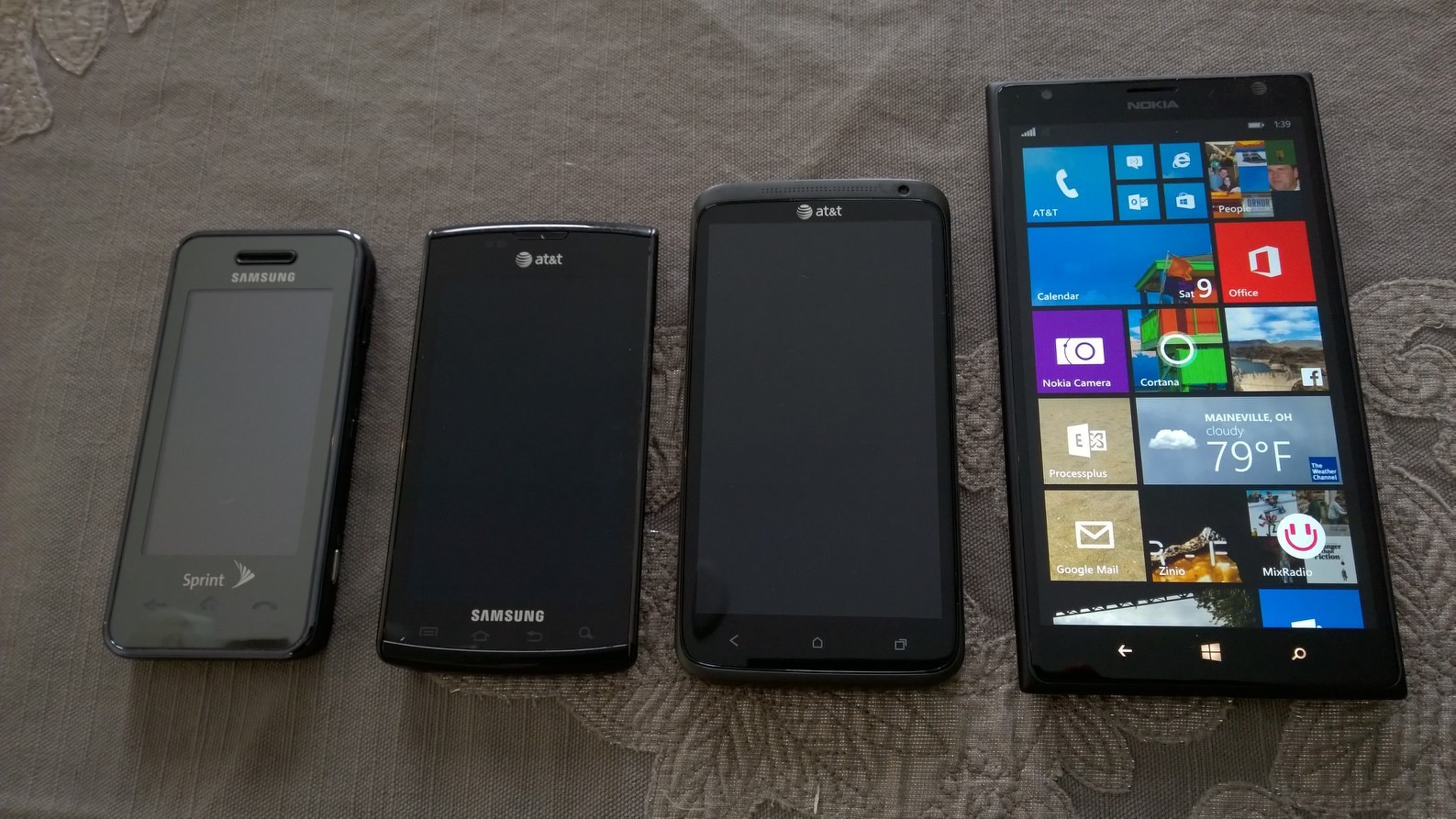 Switching back to Windows Phone is not a fair statement. I started with the Motorola Q running Windows Mobile 5.0 (not pictured) and there is no way you can call that thing a smart phone. And I have no clue what OS was running on the Samsung Instinct pictured on the far left. Samsung got hammered for trying to market the Instinct in 2008 as the IPhone (first gen) killer. What a joke, calling it web enabled would be too kind.
So the Samsung Galaxy S was my first foray into Android and was hooked ever since.  It was just a natural extension as  I loved Google Gmail, Drive, Maps, Voice, …everything. So I totally ignored the first Window phones since my company didn't have Exchange, SharePoint or anything that pushed that MS direction. But that's slowly changed as we have fully implemented Exchange 2013, SharePoint 2013 is around the corner, and Office 365 lync is in motion. So that made me start to take notice.
And then I heard about Windows Phone 8.1 with Cortana. Yes, I'm a big original Halo on the PC nerd and who wouldn't want a sassy Cortana AI? I looked into the different Window Phones and found that ATT was offering their Nokia 1520 as refurbish on their web site for FREE! I've bought my last two Android phone using ATT's web refurb program and completely happy with the quality of the phones. So this was a no brainer in my book. So read some more reviews and poked around to find that the singular common complaint was a perceived lack of apps. I dug deeper and found that the Microsoft store hit a recent milestone of 400,000 apps and then doubled that just this year. So while they may not have the millions and billions of apps that Google and Apple provide in their stores, I really don't feel depressed that I won't be able to install Kim Kardisian: Hollywood.  Ok, I lie, I am a bit bummed about that. But seriously, as long as the top 100 apps are supported, I'll be happy. And so far, the only app I'm missing is ironically enough the Word Press app. But the Windows Phone IE experience is amazing and WordPress has made a mobile version of their Admin page that makes posting this on my Windows phone easy.
So it's only my second day with Nokia 1520 and I realize that I've already adjusted to the new 6 Inch screen. I went back to my HTC X (next to Nokia 1520) to retrieve a contact and it felt like child's play. I've used the 1520 for note taking in a meeting, Lync conference call, and just now getting around to Cortana. She has already help me check my calendar and actually create some events with reminders of conflicts. Not too shabby.
So I will provide more updates as my next area I'm excited to check out is the 20 mp camera and the famed Nokia camera apps.