To sum it up, I love it! Easy to wear, I love the geek factor in checking my email, sms, and calendar events. I can check on the weather, stocks and UV levels at a glance. I can even pay for my Starbucks coffee with my band! But I think the single most pleasure I get is talking with Cortana, which really annoys Annette. But at the end of the day, this is marketed as a fitness band. So I will attempt to stick to that aspect and not go to geeky. Well, there is also the fact that Annette won't let me go there without getting into a giggle fit as you can see here:
Did Microsoft put together a great Fitness watch?
Absolutely! The hardware packs a wallop in the form of sensors. I find it easy to wear contrary to many other reviews. I will try to complete a video dedicated to this if I can get Annette to go serious for a few minutes. But lets move on to a quick review of the hardware and then the software.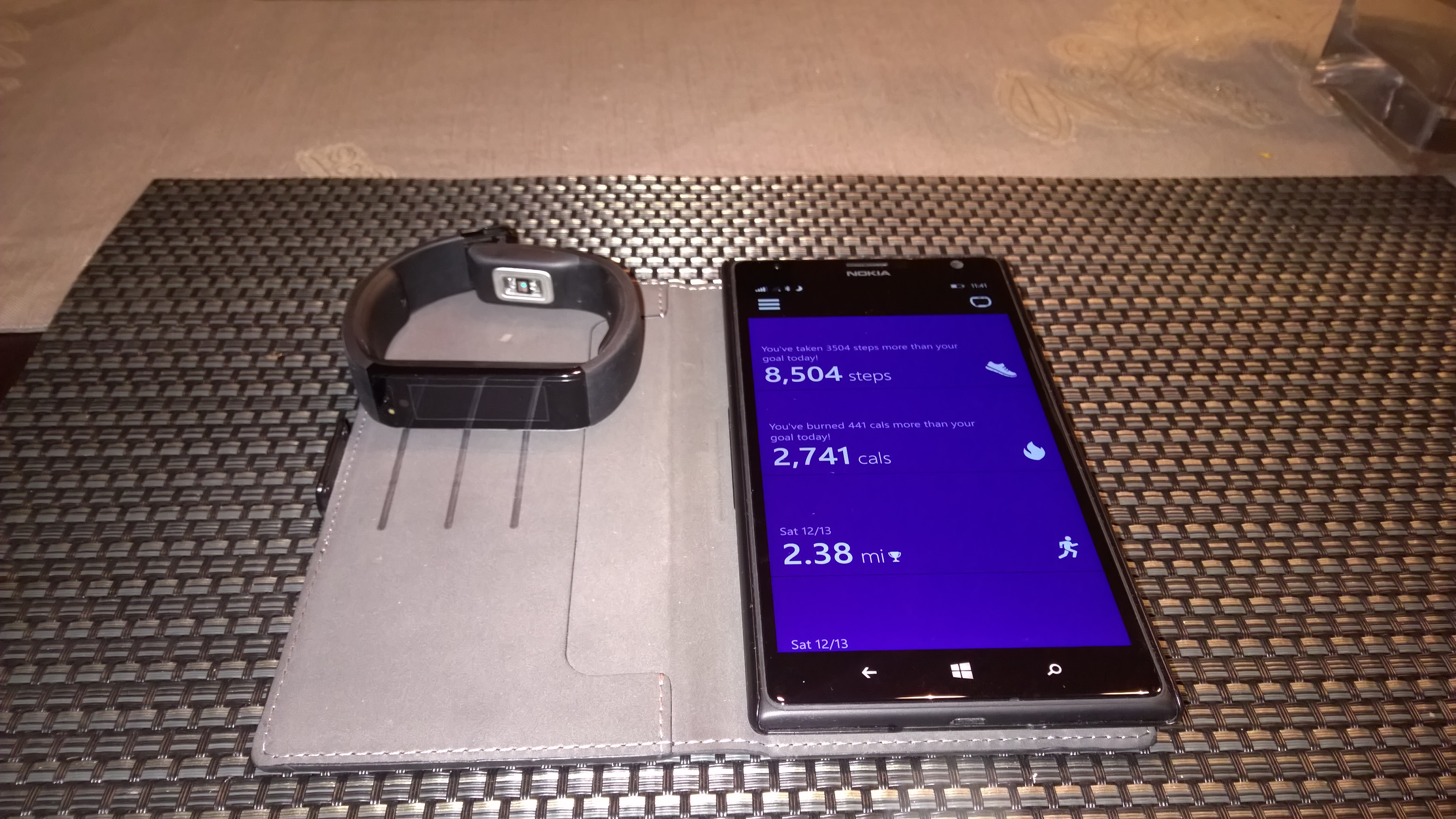 What I have found from other reviewers is a distain for the hardware but they love the software. The Microsoft Health app is available on the Ios and Android platform as well. But Microsoft Phone users get the added feature of integration with Cortana!
So the syncing with the watch and smartphone is really dependable and doesn't require any effort. Go for a run, do a workout and leave the phone in the other room. And vitals will be recorded and synced with the phone when re-connected with Bluetooth. It's that simple! But lets jump into some details.
Microsoft Band Hardware
 Look and feel

I really do find the band comfortable. The strap clasp is well made and I think one of the great features not talked about. Microsoft highly recommends you use their measure chart to determine which band size (small, medium, large) to purchase. I can't stress how important this is. If you have a local MS store, just go there and try them on. That's what I did and medium was my perfect fit. And this is really important because the band needs to be snug when exercising so that the heart rate measurements are accurate. I noticed when I had it loose that the recorded rate was wrong or not recording. And there does come in the work day or night when the watch feels stuck to the wrist. So the clasp allows me to easily adjust it wider and now it bands rests loosely on my wrist and I no longer feel it. So again, I think there should be high marks given to the strap mechanism as it's well designed.

How should it be worn?

MS recommends for the best heart rate monitoring to wear the watch with the face under the wrist. I've worn it both ways and can't say which way is any more accurate. [Edit] I do find the heart rate is more accurate when watch is face up.
MS also recommends under the wrist for privacy. So as new text messages come in, no one can see them.
I prefer not to scratch the face as I type, so I wear it facing up. This has also proven to work great for me as when I'm on the keyboard and receive my VPN authentication code via SMS, I can just glance down at my watch without touching anything or turning my wrist. In the past I had to fish out the smartphone, open the txt message in full view mode and enter the notification code.
However, when I work out, I do like to wear it down so that I can easily check my heart rate. [Edit] Due to the accuracy, I've stopped doing this.
Either case, this is something you just need to test out for yourself and find what works best for your needs. But…now it's obvious why MS provides the screen protector. Don't hesitate, put it on!

Technology

Built in GPS
Heart Rate Monitor
Step tracker
Sleep tracker
UV monitor
Bluetooth 4.0
Skin temperature sensor
Microphone (only for Cortana as far as I can tell)
Galvanic skin response
Ambient Light sensor
And a few more I'm sure I'm missing

Battery life

Goes as advertised if not longer. I can go 2-3 days before charging.
I'm finding out the battery life is based on usage.  Recording work outs and normal uses does not put the battery to test. I've learned that enabling the GPS really puts a drain the battery. So now I understand why some are claiming they have to charge every night. It's been too cold to run but we had a balmy 42 last weekend so I took the GPS for a spin. It went from 1/2 life to 1/4 life in that one short run. So again, your battery usage will be dependent on how you use the watch.

Lacking

Music. I guess we can't have everything, and I use an older smaller android phone for my music, so it does work out. But it would be nice to have an all in one solution to grab on the morning run.
Talking on phone would be nice. At the least listen to VM. But again, I understand they could only put so much into the watch…and it is a fitness watch.
Waterproof – only dust and splashing resistant. So this would be my pet peeve…as a fitness watch, folks would want to swim with this, take it on all their sporting activity which goes beyond a nice water spritz.
Microsoft Band Software
If I was gushing about the hardware, wait to you hear my drivel (and also Dribble) about the software. I forgot my band the other day and it hit me how much I realize I've fallen in love with this thing. So lets walk through the common tasks and options.
| | | |
| --- | --- | --- |
| | | |
| Main menu | Step Details | Calories Burned Details |
| | | |
| GPS Run Details | Workout Details | Sleep details |
Main Menu shows a nice overview of the current days activities.
Step details shows how I'm performing against my goals and I can look at my whole week to compare.
Calories burn works in the same manner, showing my current day details with ability to view week history.
The GPS run did a pretty good job mapping my run around Landen lake. And it's pretty accurate showing the times I was dogging it and when I found my second wind.
The work out tracker along with heart rate monitor matches up to my strap up heart rate monitor and Endomondo sports tracker.
The Sleep mode tracker is a pleasant surprise. I'm learning a lot about my sleep patterns and how it relates to my stress and work productivity.
Setting up the watch and smartphone app is also a snap. The options to customize and arrange the tiles on the watch is another blog post in itself. So I will attempt to get to that one day.
But my main goal for this post was to stress that I think Microsoft has done a great job for their initial release and I highly recommend the MS Band!