I have gone through several diet plans and fitness gizmo's over the years and never came close to meeting my Fitness goals until I learned how to combine proper nutrition and fitness that helped me loose 50 pounds. I'm in better shape now then when I after army boot camp at age 18!  I'm playing better racquetball and can't wait to get back into soccer having to give it up 8 years ago being soooo out of shape. Watching the World Cup has also got me motivated! Congrats to team USA for advancing into the final 16!!
A common misconception from those that know my love of food is that I've endured bland cardboard and paste to meet my fitness goals. Nothing could be further from the truth. No matter which fitness direction a person takes, from finding a great local personal trainer such as
BEAT
to an extreme personal training program like
Beachbody's P90x
 that you can do from home, you have to find a way to properly fuel your workouts. The trick is to find a healthy way to eat that doesn't get boring or is impossible to last a lifetime. If you try to make this a short term caloric deficit game on bland food, you will find yourself back into the old rut of bad eating habits. Or worse yet, trying to find the magic pill that allows you to continue eating junk will only make things worse. So find something that you love, complements your fitness lifestyle, and make it a long term commitment. 
We also need to get out and enjoy good times with good friends without negating all the progress made to date.   This can be demonstrated with my favorite Cincinnati Sushi joint.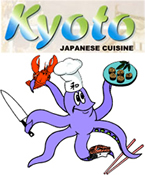 Kyoto
not only supports a healthy lifestyle, but greatly complements your fitness goals.
1) Kyoto does it right. As with any international cuisine found in the USA, the American spin is a rite of passage, making it unhealthy compared to the way the food is consumed in the country of origin. However, what a pleasant surprise to find how Kyoto's owner (Jason) takes great care and attention to detail in all aspects preparation. So while we are ranking the best to worst, it's important to keep in mind the worst is much better then the best option elsewhere. Literally folks. The worst option I will talk about here is tons better then any other restaurant. Even compared to other Sushi joints, Kyoto is heads above.  I've been to other places where they serve more rice then fish in the sushi roll. So lets take a look at the lean side first!
The most common appetizer offered is edamame, or steamed soybeans, salted and left in

the pod. Edamame is high in protein, low in calories, and very tasty. (Ten pods contain: 29 calories, 1.4 grams of fat, 2.2 grams of carbs, 2.6 grams of protein, and 3 milligrams of sodium—before the chef salts them. 

Miso soup is a favorite with most and no need to worry with this. It is a light broth created from a miso (soy) paste, often containing scallions and tofu. Many studies have shown that beginning a meal with a broth soup can help us consume less calories during the rest of the meal, so it's not a bad choice. (A cup of miso soup contains approximately 75 calories, 2 grams of fat, 9 grams of carbs, 4 grams of protein, and 721 grams of sodium.)

Another popular soup choice is Udon noodle soup, which can be a meal in itself. A light broth contains noodles, tofu, vegetables, and shiitake mushrooms; it's fairly healthy and extremely filling. (A 5.3-oz. serving of Udon noodle soup contains about 220 calories, 1.5 grams of fat, 40 grams of carbs, 7 grams of protein, and 660 grams of sodium.)

Salads are offered with a great Ginger dressing. Although sweet, tangy, and very yummy—isn't exactly the dream diet. Just be aware it can have up to 12 grams of fat in 2 tablespoons. Asking for the dressing on the side might be tough here so try to go easy on the dressing. (Two tablespoons of ginger dressing contain 200 calories, 12 grams of fat, 2 grams of carbs, 1 gram of protein, and 440 grams of sodium.)

A much healthier, nutrient-rich, and adventuresome choice is a seaweed salad. For those who have yet to try this delicacy, it consists of chopped seaweed, ginger, garlic, cilantro, soy sauce, rice vinegar, scallions, and sesame oil. Seaweed is a powerhouse of multivitamins, which makes this low-cal salad worth a try. (Two ounces of seaweed salad contain approximately 70 calories, 4 grams of fat, 10 grams of carbs, 7 grams of protein, and 660 grams of sodium.)

My personal favorite is the Squid salad.
 2) Sushi, Sushi Sushi. Sushi is often thought of as simply raw fish. The term sushi, in Japan, actually refers to the rice, which is white, with rice vinegar and a bit of sugar mixed in. What we think of as sushi is actually nigiri sushi (fish draped over balls of rice), maki sushi (fish wrapped in seaweed and rice, cut into pieces), temaki sushi (fish and rice wrapped up in a seaweed cone), and sashimi sushi (raw fish served without rice). It's important to note that the least recommended sushi is still leaps and bounds better then the best options at the next door restaurant. With that in mind, let's start with the best options, and then move to the sushi delights that we should keep on eye on.
Sashimi and nigiri are very similar; the difference being that nigiri has a small tuft of rice beneath it, adding about 24 calories and 5.5 grams of carbs to the option. The following nutritional breakdown is before rice balls and soy sauce, so take that into consideration. Here are a few of the most popular choices
 

Salmon: 40 calories, 2 grams of fat, no carbs, 6 grams of protein

Albacore: 49 calories, 2 grams of fat, no carbs, 7 grams of protein

Bluefin tuna: 40 calories, 1 gram of fat, no carbs, 7 grams of protein

King Crab: 27 calories, no fat or carbs, 5 grams of protein

Yellow Tail: 31 calories, no fat or carbs, 7 grams of protein

Maki and temaki are the same, except one is cut into smaller pieces. This is where sushi can get tricky. A lot of extra ingredients can obviously add calories and fat, and make your healthy dining experience akin to a trip to a burger joint. Sauces are often mixed into the roll. This adds incredible flavor, but really needs to be kept to a minimum. Also, anything called "spicy" or "crunchy" usually means mayonnaise, cream cheese, and tempura batter—not what you would consider with fitness goals in mind, but man oh man, you have to treat yourself every so ofter. The following are a few roll options, in one-roll (6-piece) increments, from the healthiest to the least healthy. Remember that every sushi chef can add his or her own pizzazz to the dish, so these are very approximate breakdowns:

Avocado roll: 140 calories, 5.5 grams of fat, 28 grams of carbs, 2 grams of protein

Tuna roll: 184 calories, 2 grams of fat, 27 grams of carbs, 24 grams of protein

California roll: 255 calories, 7 grams of fat, 38 grams of carbs, 9 grams of protein

Spicy tuna roll: 290 calories, 11 grams of fat, 26 grams of carbs, 24 grams of protein

Rainbow roll: 476 calories, 16 grams of fat, 50 grams of carbs, 33 grams of protein

Shrimp tempura roll: 508 calories, 21 grams of fat, 64 grams of carbs, 20 grams of protein

Tempura!! I mean who doesn't love tempura dishes? I really don't have to explain why this is on the bottom of the list.  Five small pieces of tempura can have up to 400 calories and 10 grams of fat. So I try to go easy on this stuff as hard as that can be tasty and all. Unfortunately, they also make your fitness goals that much harder to attain. So I recommend to keep the tempura to a minimum. If you can stay away from it, you are a better person then me, and you will get that much better fitness results.
3) Alcohol check!!
This is the point where I loose a lot of people. It's amazing to me that they can work so hard and dedicate their hard earn time in the week, to just kabosh everything on the weekend drinking binge. As with anything, please remember moderation. I would prefer and stress that alcohol be removed from your workout routines and wait until you reach your goal weight or fitness level. Enjoy the wonderful Tea options. But no need to bagger on, you're with your friends, so lets take a look at the damage report:

Sake and sushi seem to be like peanut butter and jelly for many people, and as they do complement one another, it makes perfect sense. The 16-percent alcohol content in sake makes it a very potent rice wine, so you don't need to consume a lot of it to feel the effect. There's also Japanese beer, which is similar in content to its European counterpart. Again, watching your intake can keep your calorie count down, so, perhaps, you can have one more piece of sushi. Some alcohol choices include:

White or red wine are the best options. Your wine snobs may insist on white wine only for fish. But I'm told this is total nonsense.  Drink what you like and you will be surprised how well red wine works. And it's not like we have to encourage you with details about the benifits of red wine antioxidants.

Champagne. Yes, you read that right. Sparkling wine with sushi is awesome.

Sake, 1 oz.: 39 calories, no fat, 1.5 grams of carbs, 0.1 gram of protein

Asahi® beer, 12 oz.: 146 calories, no fat, 12.6 grams of carbs, 1.6 grams of protein

Sapporo® beer, 12 oz.: 140 calories, no fat, 10.3 grams of carbs, 1.4 grams of protein
 My Recommended menu for P90x Phase I:
Start with edamame and Squid salad. A great mistake here in Phase 2 is to order the Giant Grilled squid. It's a meal in itself, but worth the adventure.

Pass on the beer or sake, and order some Jasmine tea. But nothing is better then sharing sake with friends and family. Moderation is the key here.

Main dish suggestions:

Kyoto Don – Excellent selection of Sashimi with a serving of rice. I basically pick at the rice or if kids are at the table, share it with them.

Chicken Hibachi for those days I don't feel like fish

If I feel like treating myself out while on Phase 2, I'll order the Hawaiian Tuna. It's a Ahi Tuna with tempura. 
Special thanks to Beachbody.com for providing wonderful nutrition tips dealing with Asian food…which I have blatantly plagiarized from.