I suffer from late night sweet tooth attacks. I found an excellent desert recipe that has allowed me to go have that late night guilt free snack.  I have been able to modify the recipe to use Shakeology.  The normal recipes calls for the following:
1/2 cup Ricotta cheese (Low moisture part skim)
1/2 tsp unsweetened cocoa powder
1/4 tsp vanilla extract
2 packets sugar substitute
Light sprinkle of mini chocolate chips
Dash Espresso Powder
I have found that a great replacement for Spenda/Equal by using Sun Crystals. All nature pure cane sugar wrapped with Stevia. Only 5 calories per packet. And of course I can't get enough of Shakeology's great chocolate taste, so I use a tsp of it in place of the coco powder.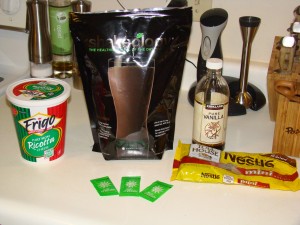 Mix together the ricotta, cocoa powder, vanilla extract and Sun crystals in a dessert bowl. Serve chilled with a dusting of expresso powder and sprinkled with mini chocolate chips.
Serves 1 .   Nutrition at a glance:
Per serving: 261 calories, 15 g protein, 17 g carbs, 14 g fat, 9 g saturated fat, 166 mg sodium
And that gives me the following wonderful and filling desert.
Enjoy!