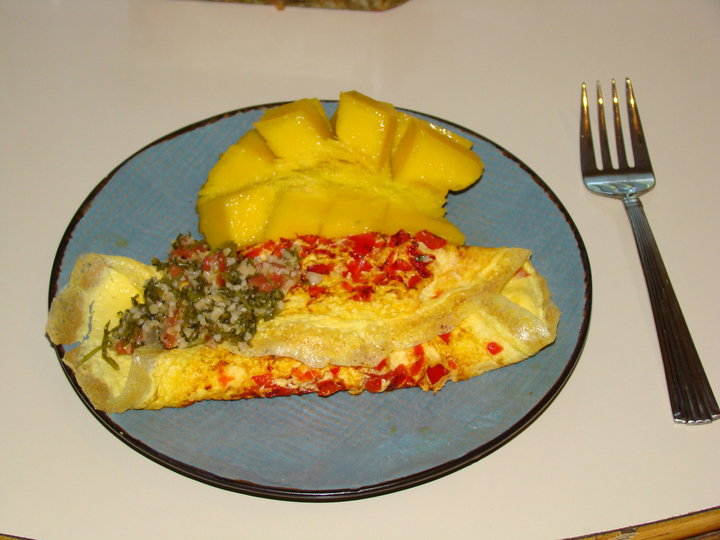 Put that Coco puffs cereal bowl away and take a few more minutes to start the day off correctly and give yourself a satisfying breakfast that will make you forget the Mid-morning snack and head into lunch hunger free. Don't skip your mid-morning snack by the way if you are working out.
This is our favorite breakfest which we can prepare ahead of time to keep the actual cooking time to a minimum.
Pre-Prep: Chop the Red Peppers and onions all at once and store. Buy the cheese already shredded in bags. Use Egg Whites liquids that can be bought in the dairy section. Yes, it's a processed food item, but for the shear sake of simplicity, it's better then any other quick cold cereal or pop tart solution.
Ingredients:
Olive Oil (less then 1 tbs)
Red peppers (2 tbs chopped)
Shallot onions (1 tbs chopped – optional)
Mozzarella part skim cheese already shredded (1/4 cup or to taste)
Black pepper
Egg Whites (2)  
Preparation:
Preheat skillet with a little olive oil, add peppers and onions and saute until the peppers get a little change in color (about 1 min). Pour the egg whites on top to evenly fill skillet. Add the cheese, and black pepper. Flip 1/2 the omelet over onto itself. Wait till you see all the liquid has cooked and flip over the complete omelet for another 30 seconds and serve.
Optional garnish: We just luv tambuli and like to spatter it on everything, from Eggs to Chicken. As you need to increase your calories in later phases of P90x, add fruit of your choice. Mango makes a perfect compliment. Enjoy!