Talking with Chris Moon and we come to find we are putting down a healthy amount of protein bars during the course of a week, and it's starting to get expensive. Now mind you, I still buy the new and improved P90x Bars (Did you know they updated these things? They really do taste great now!) along with the organic Raw Revolution bars, but there has got to be an alternative. Something that will allow me to use Shakeology? Chris being a nutrition numbers guru found some home made protein bar recipes. I passed on the recipe to Dr. Pat Baker and he decide to make a batch himself. I think Chris did an excellent job and they look yummy!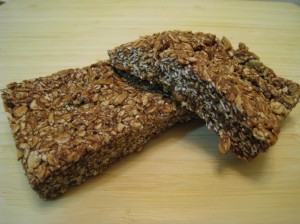 Here is his recipe:
2 cups of organic oats (I used Bob Red Mill's 5 grain Hot Cereal)
4 scoops on Optimum Nutrition protein powder (double rich chocolate)
4 – 5 tablespoons organic honey
4 tablespoons homemade almond butter
2 – 3 cups of unsweetened almond milk (I just kept pouring until it was a good consistency)
Ground the oats a bit in my food processor to make it smoother, mixed all the dry ingredients, then added the milk to get it soft and pliable. Spread that on wax paper and put in in the fridge.
Chris calculates the nutrition info per bar as:
190 calories, with 7 grams of fat (1 g saturated fat), 16g carbs, 9g sugar, 13g of protein.
I decided to make a slight variation using 2 scoops Chocolate Shakeology in place of the protein powder, and adding 3 packets of Sun Crystals.
My ingredients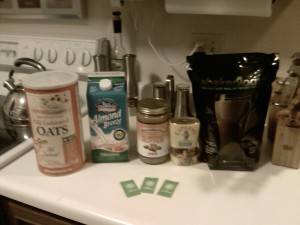 Final results
I didn't have wax paper so lined the cookie tray with clear wrap. I also didn't get the mixure as dry as Chris did so I had to bake mine for 15 minutes to get them to set and ready for packing away. Chris did some research on baking, and Dr. Baker confirmed that baking (heating) protein will denature it but it's still a nice alternative.
My nutrition calculations info per bar:
199 calories, with 4 grams of fat (1 g saturated fat), 27g carbs, 12g sugar, 11g of protein.
Update: I did the above calculations based on cutting 5 peices. I was actually able to cut 6 perfect sized peices. So I need to update the above numbers to reflect that.
Update 2: Ok, I think I finally found the perfect combination.
2 cups Oats
1/2 cup Almond milk 
6 scoops whey protein
1 1/2 scoop Shakeology (For incredible taste and nutrition)
4 tbs Honey
4 tbs Almond Butter
2 mashed up bananas

2 packets Sun Crystals

2 Tbs Wheat Germ
2 Tbs Flax seed
Adding up the nutrition facts, this batch allowed me to make almost 10 bars. I also spread about 1/4 in a thinner spread. This allows me to create some additional snack cookies which my family just loves. This really was my best tasting batch!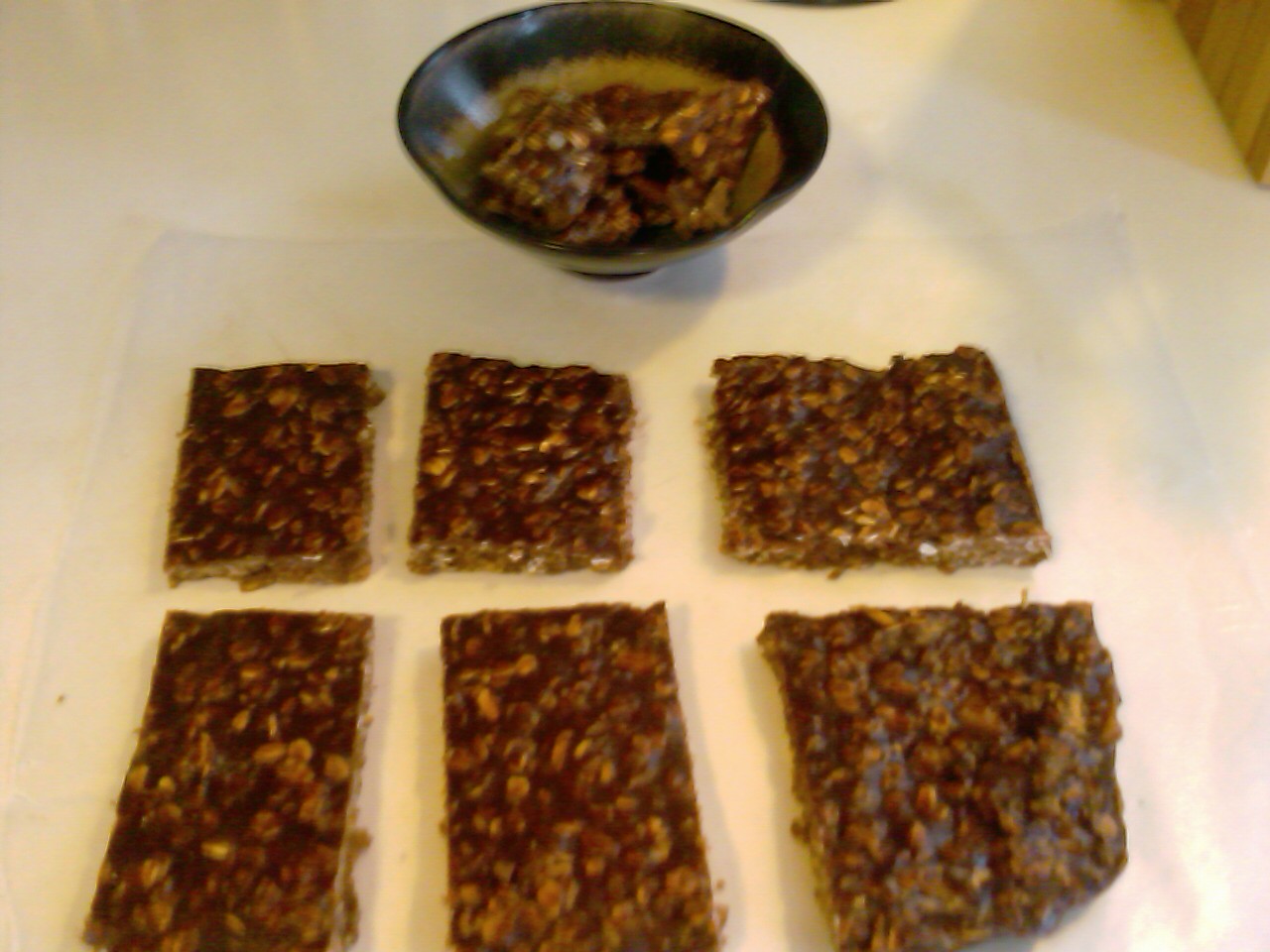 Per Serving: 191 calories, 4.6 grams of fat (1 g saturated fat), 20g carbs, 8g sugar, 20g of protein.