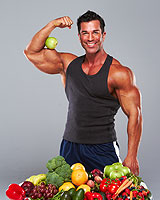 Before we determine what you're going to eat, lets figure out how much you'll eat before you BEAST UP! Remember you will need to do this before the start of each Phase. Even thought the Build and Bulk phase (1 & 2) are basically the same, you still need to recalculate your caloric needs.
Hopefully this will give you a better understanding of where you need to be when it comes to calorie intake using the BODY BEAST nutrition plan. If this tool was helpful, be sure to "Share" this page to help others that might be trying to gain mass.  This tool can be used by those just looking to bulk up and not using BODY BEAST! But if you are like me, and like structure and proven methods by experts in the field, then I highly recommend Body Beast! Click the JOIN NOW IT's FREE link above and let me help you get started!!
NOTE:
My Google script appears to be failing to send the results to email real time. Please bear with me as I get this fixed and have to manually send the results.
Build/Bulk basically is the same formula. But You do want to re-calc when you enter the Bulk Phase. However my script appears to be using the same formula for Beast mode and this is wrong. I will fix this ASAP.