I was really happy with my Shakeology Protien Ball recipe that I recently posted.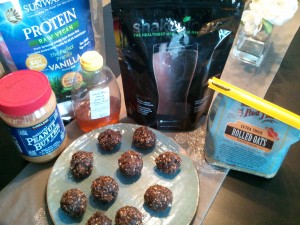 But I still found the need to tweak it. I tried adding crushed almonds, or unsweetened coconut flakes…all good stuff. And folks have been asking if using Unsweetened Almond milk would be ok. And that got me thinking about how I use to make my own Almond milk! I mean I have no proof that Almond milk you buy in the store is bad or highly processed as I suspect it is. But that's all I can do at this point is be suspicions….and why not…the food industry really gives us no choice. First I find out that I have to really be careful when buying Stevia, only to buy the Sweetlead brand because all others are using a chemical process to "purify" it. And then we just learned that Agave Nector is actually a highly processed "un-natural" product. And of course we know that soy based processed items undergo a massive chemical process to extract and purify.
So what is a suspicious health conscious person suppose to do? Make your own Almond Milk! Take control of the ingreidents that are going into your body.
The recipe to make Almond Milk is very easy. All you need is…
1/4 cup raw almonds
1 cup water
2 teaspoons of 100% pure maple syrup. (Not the processed crap)
Now the normal recipe calls to blanch the almonds first. I never do as I love the gritty fiber that comes along for the ride when I use almond milk in my smoothies or recipes.   You then blend the almonds and syrup until it turns a white foamy look. Next,  the recipe calls to use a cheesecloth to remove the almond refuse…which again I do not do. Matter fact I want all that Almond refuse!
So I now take the 1 cup of Almond Milk and use that in my protein ball recipe! I also add one tablespoon of Chai Seeds and I have a really great protein ball. It holds its form well and taste great!!!
Nutritional Facts for each ball (I was able to make 15 all together):
180 calories
7 gr sugar
10 gr protein
4 gr fat
24 gr carbs